Ingredients:
2 chicken breasts – skin on, bone-in

4 tbsp olive oil

1 yellow onion – chopped

3 fresh leeks – white parts chopped

2 celery stalks – chopped

1 clove garlic – minced

75 gr oyster mushrooms – roughly chopped

also 75 gr cremini mushrooms – roughly chopped

and 75 gr portabella mushrooms – roughly chopped

2 tsp dried thyme

120 ml white wine

7 sprigs rosemary

1410 ml chicken broth

1 tbsp flour mixed with 59 ml of water

120 ml half & half (this is also known as half cream and it is a simple blend of equal parts whole milk and light cream)

2 tsp salt

1 tsp fresh cracked pepper
Instructions for how to make mushroom stew:
Preheat oven to 220 degrees Celsius.
Sprinkle the meat with some salt and pepper and a little bit of olive oil and roast the chicken breasts for 20-25 minutes until cooked through. Set aside to cool.
Heat the olive oil in a large stock pot and sauté the onions, leeks and celery until soft. Next add in the mushrooms, garlic, thyme, and wine and continue to cook until the liquid is reduced. Add in 1410 ml of broth, flour/water mixture, and 5 sprigs of rosemary. Cover and simmer for 5 minutes.
Meanwhile remove meat from chicken and shred into bite-sized pieces.
Remove rosemary from the stew and discard. Add half and half, and chicken. Season with salt and pepper.
Serve in soup bowls garnished with a 1 inch rosemary sprig.
Prep time: 20 min
Total time: 50 min
Notes:
If you want to store your stew, you can do so and it will last in your fridge for up to 3 days.

We used some white button mushrooms here as well for a little more flavor, but you don't have to do the same. 
Tip: You can use turkey breast for this recipe and also duck breast would be a nice change to the recipe. Poultry in general would work well…
And the half and half can be changed for heavy cream, for more of an indulgent meal.

Here is the video where Beth is preparing this recipe!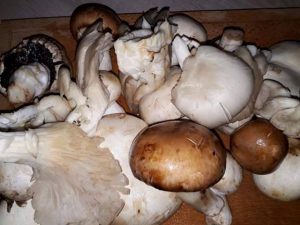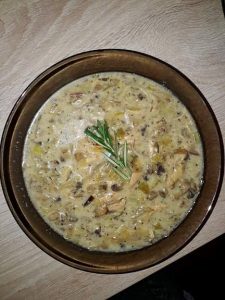 Enjoy! 🙂 
And if you liked it please give us a share and a big like on Facebook where you can find us under the name Magliano's Comfort Food.