It's a "Traveling, sharing, soul food at its best" day here on Magliano's Comfort Food and today we are traveling to Kansas – Missouri, USA with this tasty recipe.
The reason is the "Super Bowl"! The BIG GAME!!!
This week we are going to travel to each of the finalist team's home country and we are going to indulge in their specific comfort food! 
Today we are honoring the Kansas City Chiefs which are an American football team with the headquarters in Kansas City, Missouri, and one of the proud finalists of this year's Super Bowl.
In the great American heartland, this is the city that's meat built. Kansas City, once famous for its stockyards, is still famous for its barbeque and for all the other marvelous things people can do with meat. It's a food culture where anything with meat on its bones is dinner.
We can't say that we got this recipe from a certain site or blog. It is more of a mix when it comes to our inspiration. We watched a lot of videos on YouTube and we read a lot of articles on this subject to make sure that we bring you only the best of the best.
We are going to link some of them for you to understand the cooking process and the method behind this delicious recipe.
Ingredients:
Pork Baby Back Ribs (1 big rack of ribs)
Beef Stock (500-700 ml)
Barbeque Sauce (300 ml – we used homemade but you can use your favorite store-bought BBQ sauce)
Pork Rub Mix of Spice (5-6 big tbsp. – we used homemade but you can use your favorite store-bought pork rub)
Preparation:
Rub the spice mix all over the pork ribs and let them "sweat" in it for at least 3-4 hours. The more, the better. We rubbed around 9-10 tbsp of spice mix on our pork ribs and the next day when we were ready to prepare them, we took them out of the fridge, washed them thoroughly and we applied a new light coating of the spice mix (around 3-4 tbsp on the whole rack of ribs). But feel free to stick to your original coating. That should be just fine!
Preheat your oven to 140 degrees C/285 degrees F.
Place the ribs in the middle of the oven, on a grill, with a big tray under them to catch all the juices (you don't want to scrub your oven like crazy when you're done!!!). Let them bake for 2h and 30 min, turning them around and spraying them with water, every 30 min. After this time and all the spraying and turning, you are going to take them out of the oven and wrap them in some aluminum foil. Create the aluminum foil "bedding" and place it in that tray that you used to catch all of the juices from the ribs, pour about 200 ml of beef stock inside the tray and over the aluminum foil, place the ribs on top, pour the rest of the beef stock on top of the ribs, then wrap the foil and fold the ends one time over. That way, when it's time to check on these ribs you can open them right up real simple and check them for doneness.
Place the tray with the "package" back in the oven without increasing or changing in any way the temperature and after about 1h, 1h, and 30 min…more or less, they should be done (you can cook them for more time if that's what you prefer… it's really up to you just how "off the bone" you want your meat). Start checking them after the first hour and what you are searching for is disintegration. You want to see them soft, tender, and almost falling apart, with the bones falling off them. Then you know they are ready to start basting with the BBQ sauce. Take them out of the oven and let them rest inside the aluminum foil for about ten minutes. That's all they need. After that, transfer them to a tray and spread the BBQ sauce on them, and sprinkle them with a light dusting of some more BBQ seasoning mix. The same pork rub/spice mix that you used to season them at the beginning of the recipe! This is called "muddled" because you are creating a thick coating on them. If you only want the BBQ sauce as a coating, then feel free to skip this step. Stick with the BBQ sauce and don't sprinkle any spice mix. Next, pop the tray back in the oven and wait somewhere between 15 min to 1h… But 15 min should be enough! If you choose to bake them for an hour though…you should be basting the ribs every 15-30 min with more BBQ sauce!!
Enjoy! 🙂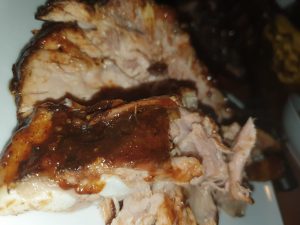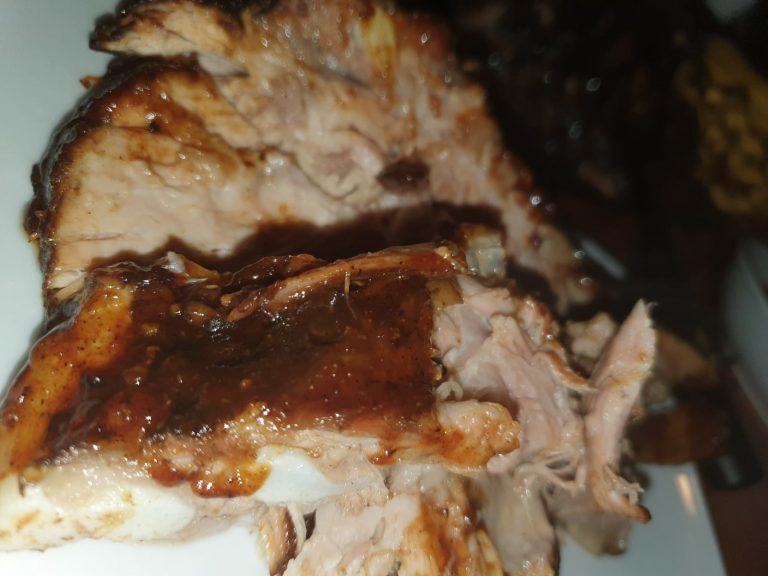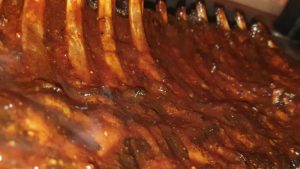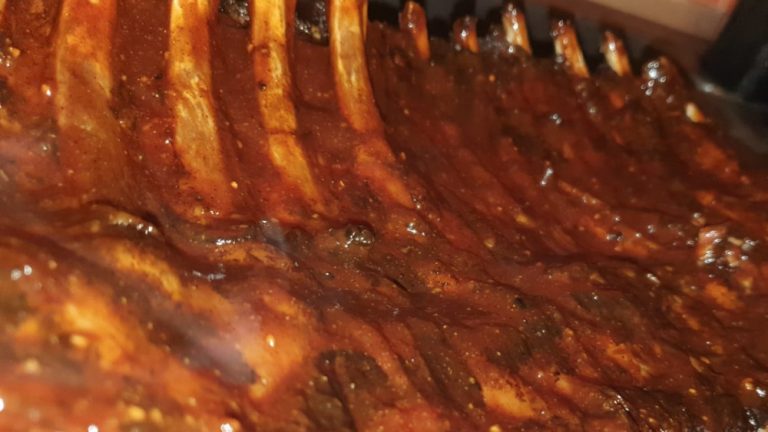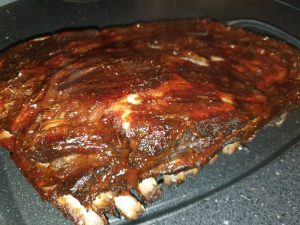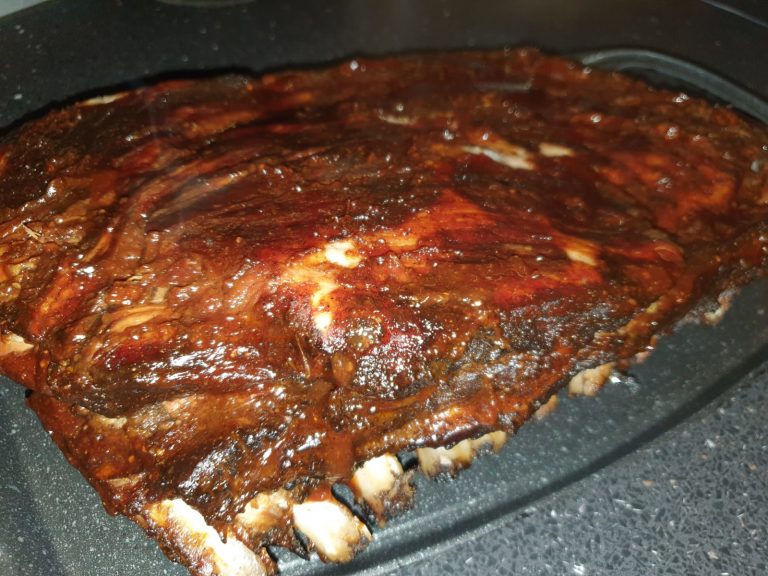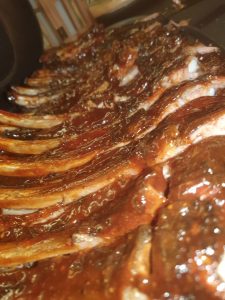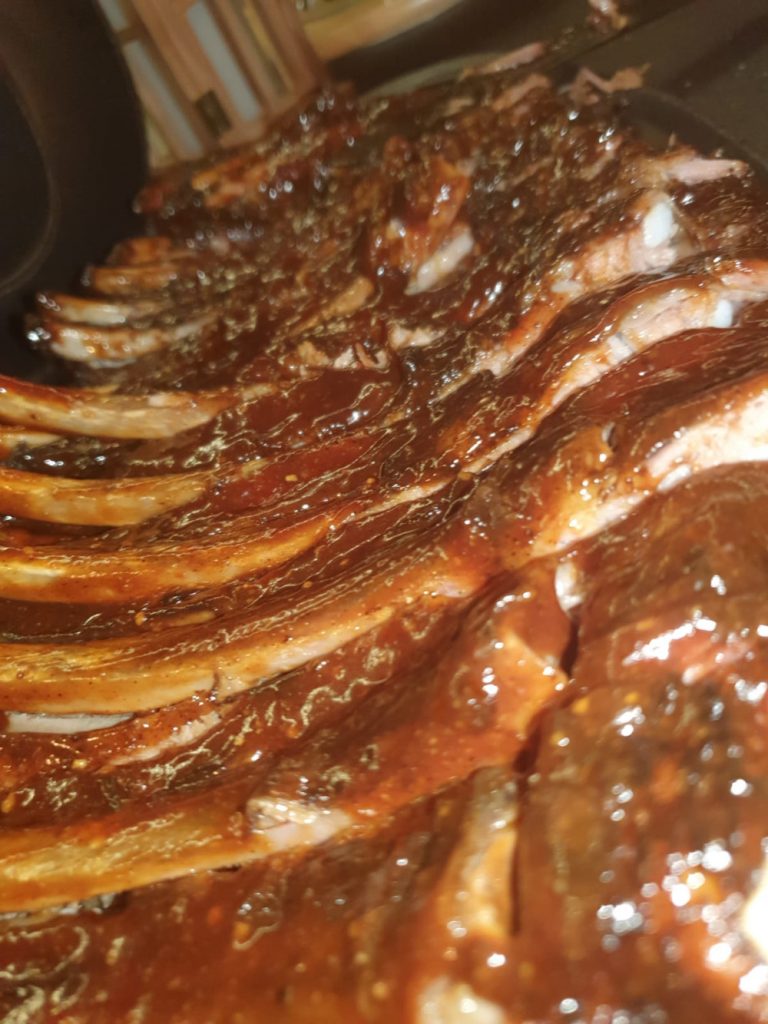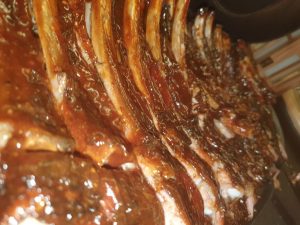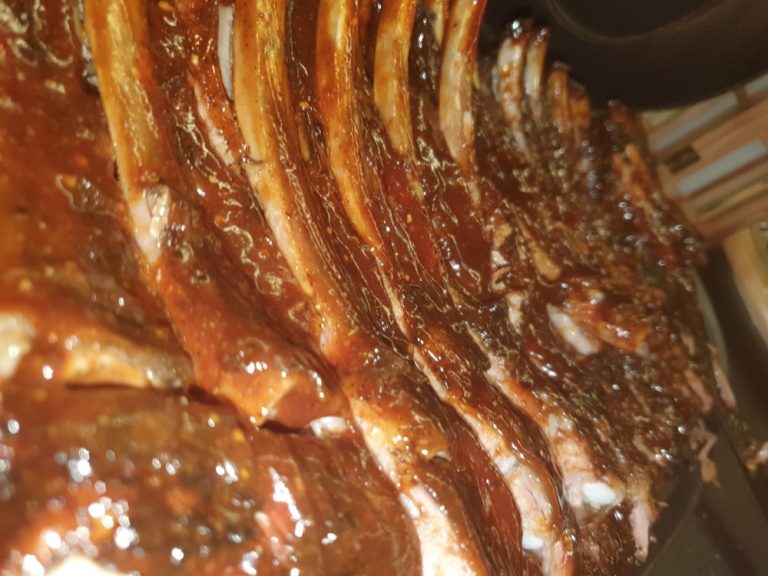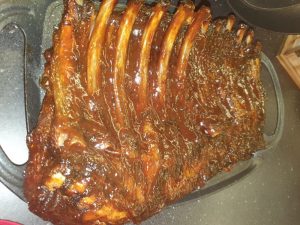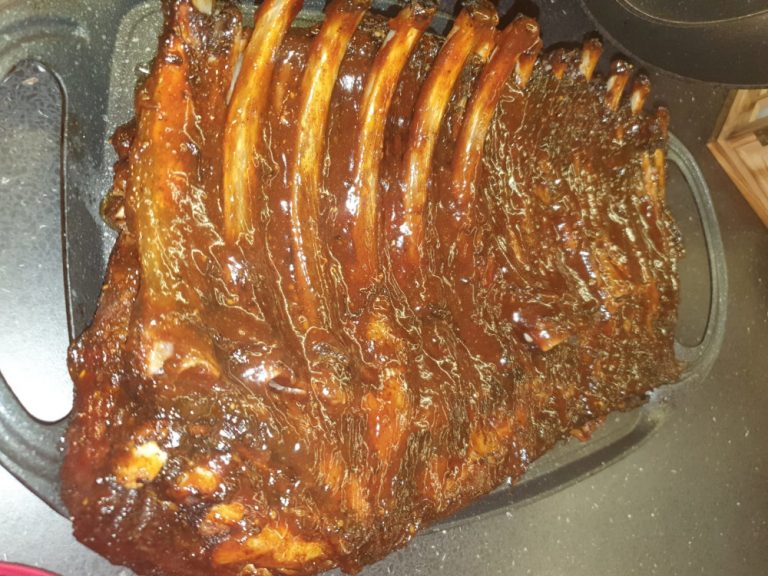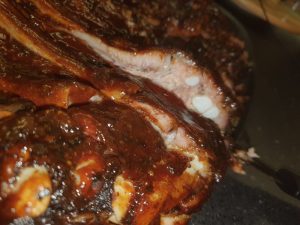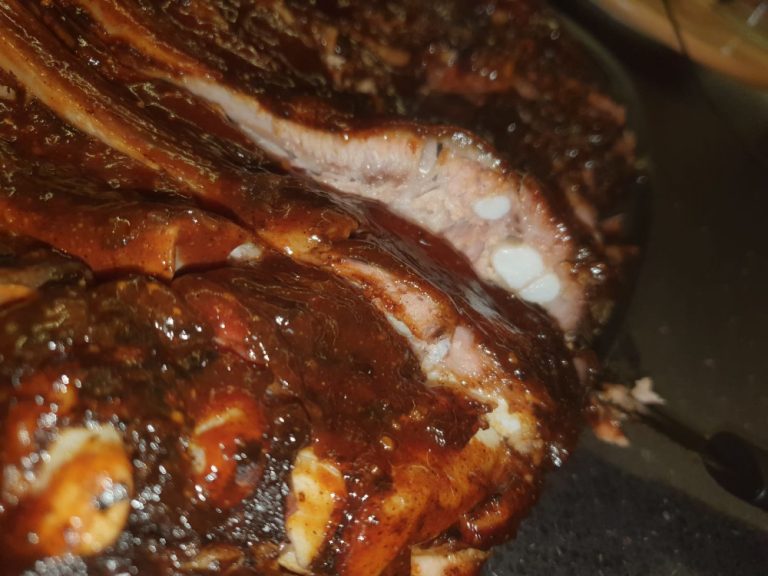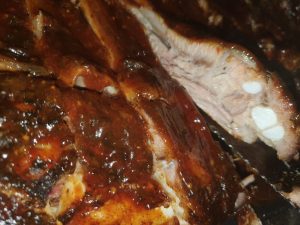 Tips:
The juices that are left in the tray from the meat and the beef stock are pure gold!!! Don't you dare throw them away! Pour them into a jug, bowl, bottle or place them in a plastic bag and freeze them to use as a super-concentrated, super umami, porky, beefy stock or pour them over the leftover pork (if you were lucky enough to have that!!!). If you are going to pour them over your leftovers, make sure you separate the meat from the bones and shred it. That way, you can either serve it the next day as a pulled pork sandwich or you can freeze it for another time!
We decided to go with our very own BBQ sauce recipe but you can always buy your favorite brand of BBQ sauce from the supermarket.
The same goes for the pork rub. We used our very own homemade spice mix but feel free to go and buy your favorite from the store.
You should know that we ended up letting the meat cook inside the aluminum foil for about 4 hours, 4 hours, and 30 min… something like that! Yes!!! To be honest it just happened… It's not something that we intended on doing. We just had a very busy day and we were not able to take it out on time. However, I must say that it came out amazing! The taste was heavenly and the texture so moist and juicy. To that time we added the 2h and 30 min from before and the 1h that we kept basting it with the BBQ sauce… So it was a total of around 8 hours cooking time. The only downfall of this whole process was the fact that when it came time to baste it with the BBQ sauce, the meat was so tender that when we tried to flip it and place it on the grill (inside the oven) it almost fell apart in our hands. So you might want to take it out sooner than we did… However, everything turned out alright in the end and we got to enjoy the most delicious pork ribs that we ever tasted!
We got the meat from a local butchery called Domidene. We were fortunate enough to talk to a very nice butcher who helped us get the perfect piece of meat for what we needed. His name is Razvan and he listens to the customers when they explain what type of recipe they need to prepare and usually advises them on the cuts of meat they should choose. We recommend that place wholeheartedly!