Ingredients:
750 gr – white chocolate

100 gr candy cane sticks crushed very finely

113 gr butter

¼ of a teaspoon salt

200 gr marshmallow creme or fluff

180 gr heavy cream / whipping cream

400 gr sugar

6 roughly crushed candy canes

227 gr mini marshmallows or regular or jumbo ones cut into 2 or 3 pieces
Instructions:
Into a bowl, add the marshmallow cream or fluff, the 100 gr of candy cane sticks that you crushed very finely and the white chocolate.
Into a sauce pan, over medium to high heat add your heavy cream, salt, butter and sugar and stir that all together. Bring it up to a boil and then turn the heat to low and let it simmer for 5 minutes while, stirring the entire time.
Pour your hot mixture into the bowl, on top of your chocolate, marshmallow cream or fluff and the 100 gr of candy cane sticks that are finely crushed and stir really well with a whisk until everything is well combined and melted!
After this add in half of your mini marshmallows or of your pieces of marshmallows and stir it again really well until all of your marshmallows are coated in your mixture.
Then add your mixture into a tray lined with some baking paper that you greased with some baking spray or sunflower oil so that it won't stick and you will be able to take it out later. Just layer it like this: the tray, the baking paper, the oil and your mixture.
Then sprinkle on top of your mixture the remaining of your marshmallows and the crushed candy canes. Let it cool down and cut it into pieces (any shape you desire) and serve it!
Prep time: 10 min
Total time: 30 min
Notes:
If you want to store your fudge it should hold well at room temperature in an air tight container for up to 1 month.
You can also pack it and give it as a present for Christmas!

This easy chocolate fudge recipe is home made and can be a nice dessert when you have guests for Christmas
Tip: You can sprinkle some powdered sugar on your pieces of fudge once you slice them, so they don't stick and you can handle them with ease!
Here is the video where you can see this recipe being prepared!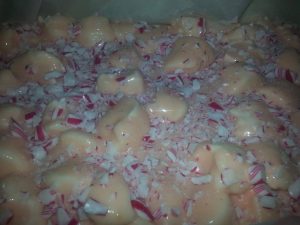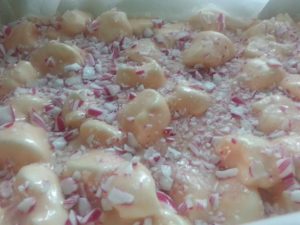 Enjoy! 🙂
And if you liked it please give us a share and a big like on facebook where you can find us under the name Magliano's Comfort Food.
Below some interesting  videos about other  easy chocolate fudge recipes